Nutrition and WORKPLACE wellbeing
EAT WELL - LIVE WELL - PERFORM BETTER
IT'S TIME TO CHANGE THE WAY WE EAT AND LIVE
For a healthier way of working and living,
more energy and drive,
better mental and physical wellbeing.
Change is good! No magic pills or miracle products, no hocus-pocus, no counting calories. You will finally know which foods are best for you to support your body and brain. All aspects of healthy living are taken into account – exercise, recovery,  and how to make your brain your strongest ally on your way to a healthier way of life. 
Alone we are a drop,
together we are an ocean
Although you can't always control your circumstances, what you can control is how you prepare yourself, your team and your organisation to become resilient, fit and have enough energy to do your jobs well – which in turn will set you apart from your competitors.
Eating well is the single most important step to a sustainably healthier and happier lifestyle but food is more than just fuel. A balanced diet is also key to stronger performance and better decision-making.
Which, in turn, will support your business and its financial performance
Brain foods impact mental agility and lateral thinking, and taking responsibility for what we eat and drink – with a little effort – can turn gradual changes into real differences.
Combine strategic eating with targeted mental and physical activities and the potential is there to become 'corporate athletes': you and your teams will become better prepared to deal with the challenges ahead.
Welcome to our Award-winning Wellbeing Retreats and Away Days!
Why are we Award-winning? Because we run events with a twist!
Yes, we love those retreats where we sip champagne and only get up from our sun loungers to get a massage. But is that it? We think Wellbeing should be part of our daily lives not only a few days of relaxation and pampering.
At our events there's more: we help you to kick-start your physical and mental wellbeing. Our retreats are run by Dr Vikki Barnes, clinical psychologist and Carola Becker – #TeamCaroVik 🙂 
You will learn which foods help you feel better, enjoy menus developed by Carola and cooked by our own Chef, taking delicious and healthy foods to a new level.
Led by science, not fads and without finger pointing or any food extremism!
Amazing locations and venues all over the world, nature-based activities, fresh and honest food, lovingly prepared and with your wellbeing in mind.
Vikki will share the science of happiness and what you can do every day to be happier. We will help you building your very own wellbeing toolbox for a healthier body and mind. Full of ideas you take home and incorporate into your busy life.
Find out more about our events, retreats and away days:
Carola is a forward-thinking certified Nutritional Therapist, Sports Nutrition Advisor, Fitness Instructor and proud founder of Life is Good Nutrition. Her passion is brain health and performance and what everybody can do to support their body and brain!
As a speaker she has been delivering sessions on Nutrition and Lifestyle for organisations in Great Britain, Europe and in the USA.
She helps her clients make game-shifting changes to their mental and physical health: more energy, better stress resilience and increased lateral thinking. She works with Corporate Teams and Individuals so they can shape rewarding food and lifestyle routines that will last a lifetime – for a greater feeling of wellbeing and readiness for every challenge life throws at them.
Download Carola's Media Kit here
Blog
Introducing: 'YOU FIRST – Healthy Body & Mind for High Performers' We are delighted to announce an exclusive event tailored specifically for leaders and managers.
Read More »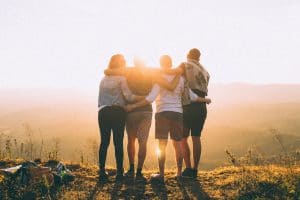 Blog
If you want to prioritise wellness as a core value of your organisation, you are faced with lots of options from yoga sessions to subsidised
Read More »
Blog
Is there anything more important than sharing beautiful food with friends and family during the festive season? Food is undeniably at the heart of holiday
Read More »
I am thrilled to say that my son is much better than when I first got in touch with you (he was very low then, and about to start taking antidepressants). He is loving the independence that he is getting in the kitchen and experiencing the effect the food has on his mood. He has a very strong will and he is keeping religiously to your instructions. But now he feels very well and positive and making plans. It could not be a more positive feedback. We are both very grateful.
As a personal trainer I spend a huge amount of my time monitoring clients and focusing on my own training, a few months out from one of my biggest events I realised my nutrition wasn't where it needed to be for my body to perform at its best, due to all of my time focusing on others and putting hours of training in. Carola gave me a full breakdown and spent a lot of time making me an individual programme pointing out areas I needed to work on. I'm so pleased to say I went on to win my event and am now training hard for the next. Thank you Carola, you're a fantastic nutritionist!!
Carola Becker is an extremely passionate, highly knowledgeable Nutritionist. I have benefitted from her support, reliability & genuine passion for getting your mind, diet & body into an excellent place. It is testament to her professionalism & experience in what she does, that she has been able to guide me to turn a corner with my diet, how I conduct my daily routine & ultimately the impact that has had on my life. I continue to work with Carola on a long-term basis to achieve my personal goals, I cannot recommend her service highly enough.
At each step Carola shared the scientific evidence and the outcomes we can expect if we choose to focus on food that is good for our brain. Her event which, although it was about brain food, also proved to be a masterclass in the art of persuasion in a valuable one-hour session which is being enthusiastically embraced.